The HOME page
Scotty's Castle. Building began in 1922. Now owned by the Death Valley National Monument, the "interpretation" of this site is set in 1939, the heyday of the ranch.

Our guide. Costumed ala 1939, he led us, informed us and kept us off the carpets.

Photos of Walter "Scotty" Scott and his benefactor/financier Albert Johnson.

The entrance foyer/living room..

Scotty's kitchen.
| | |
| --- | --- |
| | |
| | Scotty's Bedroom. |

A large portrait of Buffalo Bill Cody hangs in Scotty's bedroom. Scotty had been a member of Buffalo Bill's show. Later in our trip we will visit Buffalo Bill's Scout Ranch in North Platte, Nebraska, but this is a very fine portrait of Bill. (Buff and I are on a first name basis now.)

Outside of Scotty's bedroom, which has it's own entrance as you can see. Always a showman/conman, Scotty had promoted a rumor about the building of such an opulent residence such as Scotty's Castle in the middle of the desert. The rumor was that the castle was being built over the entrance of a gold mine, which was (the government claims, but you can't convince me!) untrue.

Part of the mystique was this device next to his bedroom door. It's called a shot splitter. Behind it is a hole through which Scotty could put a shotgun and fire. The shot would be redirected in all directions by this device, killing anyone trying to gain access to his room.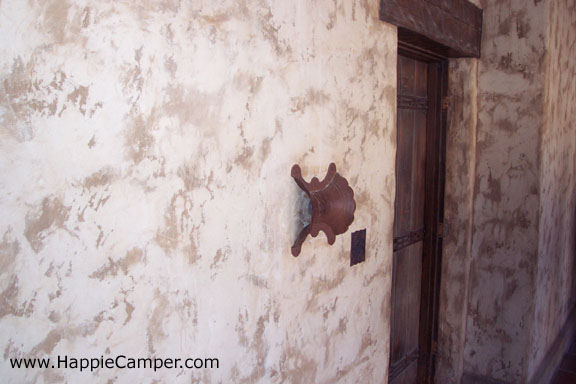 Was it really part of the mystique, or was Scotty really afraid of the potential consequences of his own invention?

The truth is that Mr. Johnson funded the construction and operation of the castle, and used it as a desert getaway for his health. Mr. Johnson and Scotty had become good friends, and Mr. Johnson didn't seem to mind at all that Scotty had appropriated his castle as one of Scotty's tall tales.

Next up: Ubehebe Crater. Pretty deep, and pretty pretty.
(Full-size available on these 2 shots.)

"Ron, aren't you coming over here?"

"Unh uh."
Or, you can use your browser's "back" button to bring you back from whence you came.

Copyright 2002-2005 HappieCamper.com. All rights reserved.